Abdul Kader
The Kerala Born Freedom Fighter is not remembered or found in Left Text Books for the reason he sang Vande Mataram before going to gallows. Abdul Khader was born on 25th May 1917 at Vakkom, Kerala, before matriculation he developed revolutionary ideas to liberate Bharat from British clutches. He went to Malaysia when he was 21 for livelihood & when he was 25, he found his true calling Abdul Khader joined INA. He was one of the 50 trainees in Indian Swaraj Institute, Penang.
They were asked to spy & were trained in guerrilla warfare but it was inadequate as they were caught by the British after entering Bharat. The gang of 20 which had come from Penang got different forms of punishment. The trial was on camera at Madras Jail for waging war against the king, though all the 20 were equally guilty, British divided region wise and pronounced death sentence for Abdul Khader, Satyendra Bardhan, Fouja Singh, Anandan & Boniface Pereira. Pereira got out on technical grounds but the 4 Freedom Fighters were hanged on 10th September 1943.
The hall where they hanged filled with echoes of Vande Mataram and Bharat Mata Ki Jai. In his last letter, Abdul Khader asked his father, relatives, and friends not to worry as he is happy for giving life for Bharat Mata.
Vajpayee Govt issued a stamp commemorating their sacrifice.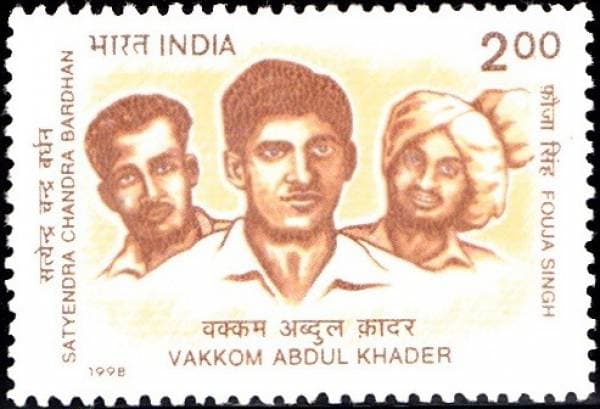 Source:
UNFORTUNATE IT IS !!!!
Today is the Jayanti of #AbdulKhader, an INA Soldier who was hanged by the British.
The Kerala Born Freedom Fighter is not remembered or found in Left Text Books for the reason he sang #VandeMataram before going to gallows..
Abdul Khader was born on pic.twitter.com/i1aLehpob9

— Sheshapatangi1 ಪ್ರಭಾ ಮಗ ಈ ಅಲೆಮಾರಿ ಅಯ್ಯಂಗಾರಿ🇮🇳 (@sheshapatangi1) May 25, 2021