Benimadhav Ray
In the 16th century, in Bengal Dakat Benimadhav Ray and his bandit gang stood as a terror for the Afghans in eastern India.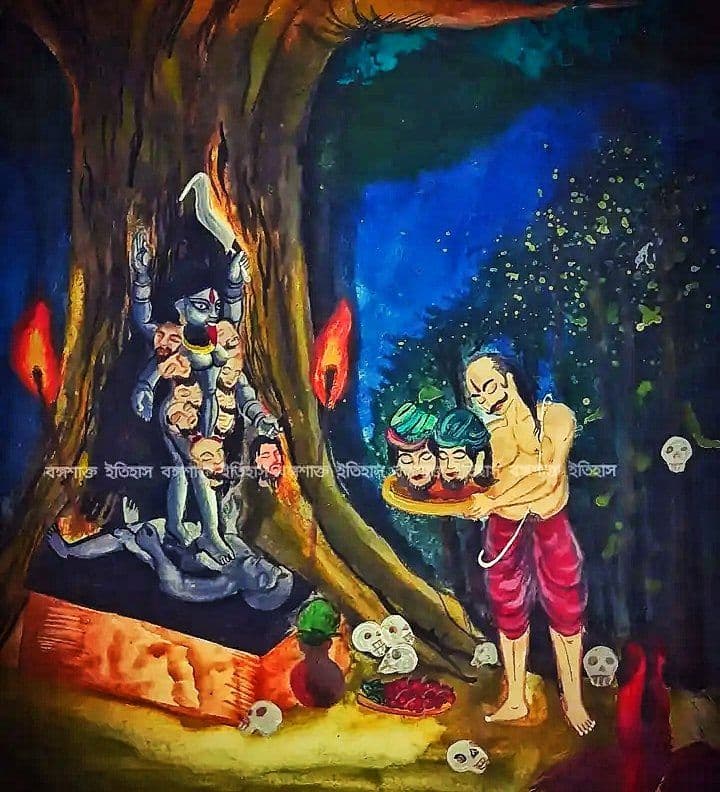 Pandit Benimadhav Ray was a Bengali Brahmin dacoit of Rajshahi whose gang used to capture the Pathans on the night of Amavasya and offer narabali of them in front of Maa Yavanmardini Kali. Pandit Benimadhav Ray was a resident of Tarash Chalan-Beel in the Rajshahi kingdom of Bengal. In his early life, he was a scholar Varendra Brahmin Pandit and Sanskrit Acharya. In that era Pathans used to demolish temples & murtis and forced to stop puja of Hindus.
In view of the chaotic situation in society, Benimadhav decided to sharpen his sword to protect Dharma. He was a skilled swordsman and he used to offer bali of Pathans on every Amavasya night at the feet of his worshipped goddess, Maa Yavanamardini Kali.
He initially received martial training there by joining the team of warrior Gobindo Singha. Later, after the death of Gobindo Singha, he became the leader of the group, and became popular with the name "Pandit Dakat" [পণ্ডিত ডাকাত| पण्डित डकैत]. His two chief Commanders were Jugal Kishore Sanyal and Chandi Prasad Ray. Chandiprasad and Jugalkishore, were notorious for implanting fear among Pathans & known by them as "Kaal Chandeya" and "Kaal Jogala" for fear of similar reasons.
In due time receiving order of Beni Ray, Jugal & Chandi launched attack on Subedar Zalil Khan's house. Chandiprasad surrounded the entire house & Pathans surrendered in fear. Then Zalil Khan & Khalil Khan was tied & brought to Chalanbil, where they were sacrificed to Kali.
Dakat Benimadhav Ray lived on an island in Chalan beel, his dera was surrounded by dense forest. The area where he lived is known as the "Pandit Dakater Bhita" (পণ্ডিত ডাকাতের ভিটা), although the Pathans called it "Shaitan ka Bhita" خانه شیطان (Residence of the Devil).