Bhagvat Sinh Jadeja
Maharaj Dr. Bhagvat Sinh Jadeja of Gondal: was the 1st Maharaja in India to become a qualified doctor. He abolished all the taxes, customs, & export duties in the state making Gondal the only state to be tax-free.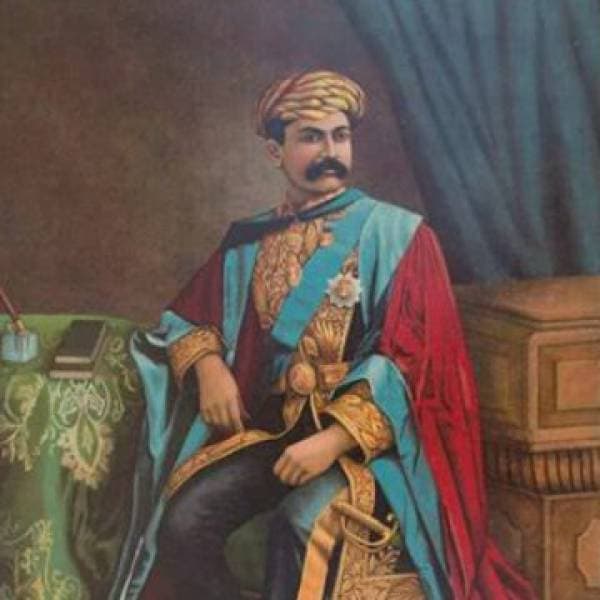 He did not just remove the purdah system for women, but 'Zananas' or restricted women's wings were no longer built-in subsequent palaces. He found no reason for women to be confined in House & promoted swayamvar pratha for Women like Kshatriya women had the right to chose the partner. By 1918, Gondal was the only state in Western India to have state-sponsored compulsory & free education for girls in all villages. He organized several programs 4 women upliftment & gatherings where he would talk about the need to give them their rightful place as ancient India had.
Gondal became 1st state to establish an asylum that would provide shelter for the blind, maimed, the crippled, the infirm — anyone and everyone who was incapable of standing by himself or herself, regardless of age, sex, creed, race or nationality — whether friend or foe.
Bhagvat Sinh improved the regional livestock through modern animal husbandry, built dams, irrigation networks, introduced sewage, plumbing, rail systems, telegraphs, telephone cables, and electricity lines. He not only worked in his state but collaborated with other states as well.
Bhagvatsingh was educated at The Rajkumar College, Rajkot. He then studied Medicine at the University of Edinburgh from 1892, where he graduated as a medical doctor in 1895 and became a Fellow of the Royal College of Physicians of Edinburgh, the only princely ruler ever to do so.
He later rose to become Vice-President of the IMA. Most Indians who went to Europe for the study of western medicine were young and unacquainted with India's past. They returned with prejudices, belittling their ancestors' medical accomplishments. Bhagvat Sinh was different.
Europeans, then, belittled ancient Indian history of Medical knowledge, Bhagvat Sinh wrote articles, books & speeches talking about Indian ancient Medical Advancements, this created a stir in Britain, later many Britishers did agree to his writings & acknowledged Indian Medicine.
In October 1934, on the 50th anniversary of his accession to the throne, he gave his weight in gold charity to Brahmins and the poor. He wrote of the debts of people to the crown and gave large sums for charities apart from this, renovated many public buildings on this occasion Bhagvatsingh reformed the state administration, developed its resources, erected schools, colleges, and hospitals, provided free and compulsory education for both men and women through university, built technical schools for engineers and training facilities for laborers. Bhagvatsingh also published the first-ever dictionary of Gujarati and a Gujarati encyclopedia, "Bhagavadgomandal" in 1928. Dictionary spreads over 9500 pages in 9 volumes and includes the meaning and description of over 281,377 words. It took 27 years to compile the dictionary. Bhagvat Sinh died on 9 March 1944 in his eightieth year after a 75-year reign, cementing his reputation as one of the most progressive monarchs in Indian history.
Source: https://twitter.com/KshatriyaItihas/status/1296110859232501761