Tegh Bahadur Death
Some have claimed that story of Guru Tegh Bahadur sacrificing his life for refusing to convert to Islam is a modern fabrication. And that there are no historical Sikhs sources about it. While the Persian sources don't say anything about this martyrdom.
There are counter-views and here is a list of them.
It is a poem on the lives of the ten Gurus, completed in 1699. The poet Kankan had most likely seen the reign of Guru Hargobind and was already an old man when he briefly stayed in the Durbar of Guru Gobind Singh at Anandpur. The single existing manuscript of Das Guru Katha was recovered and copied from the public library of Lahore by Professor Kirpal Singh in 1956. A copy of the manuscript is now in Khalsa College, Amritsar. The original with many other Sikh records is still in Pakistan.
Prof Kirpal Singh translated the poem and published it in the Khalsa Samachar as a whole.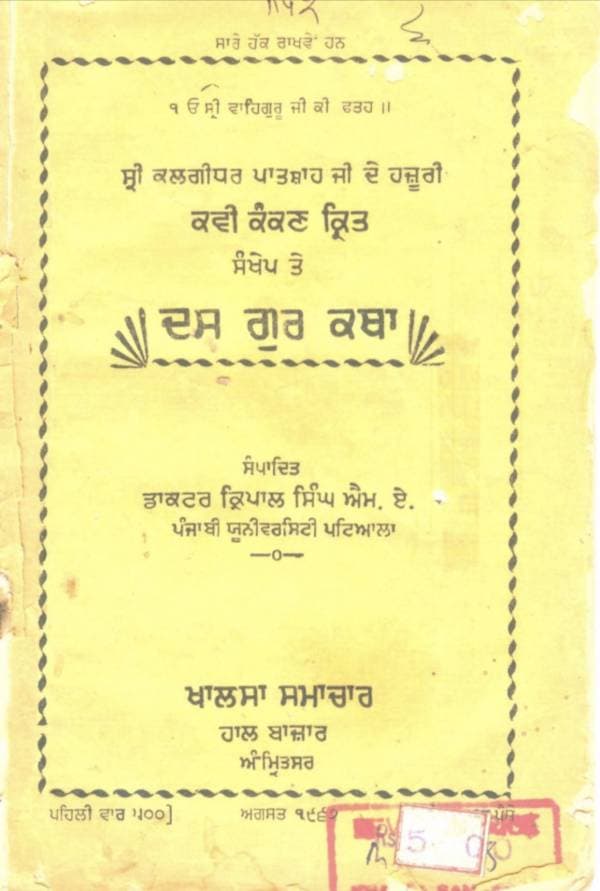 From a historical point of view, the poem is a contemporary source for Guru Hargobind's battles during Shah Jahan's reign, and the martyrdom of Guru Tegh Bahadur for the protection of 'Janeo and Tikka', markers of the Pandit class, at whose behest he 'surrendered' to Aurangzeb.
Bhats were a community of genealogists and 'local historians' who annually updated genealogies of families in their designated areas. These genealogies were recorded in their 'archives'. Most Bhats were Hindus, a few - also known as Mirassis - were Muslim, and some also became Sikh. Sikh Bhats were associated with the Gurus since the time of the third Guru, and have kept chronicle records of Sikh history from the time of the fifth guru. Bhat archives (Vahis) were collected and maintained on a regional basis - some of these are 1. Vahi Multani Sindhi 2. Vahi Talaudi 3. Vahi Karsidhu 4. Vahi Bhadso 5. Vahi Purbhi Dakhni 6. Vahi Jaddo Basiya ki. Many of these Vahis are now collected in places in Punjab/Haryana
Bhat methods of maintaining records are a corollary to other Indian record-keeping methods, such as those by Pandas of various Hindu pilgrimage sites. An example of how these two sources corroborate each other, esp in the case of Guru Tegh Bahadur: Bhatt Vahi Purbi Dakhni and Panda records of Prayag both record a 1719 BK visit of Baba Tegh Bahadur to Allahabad.
There is a contemporary record from the Bhat Archives of Jind, confirmed by a compendium of the Archives of Thanesar.
It states (in Hindi) - "Kripa Das beta Arhu Ram ka pota Narain Das ka parpota Brahm das ka bans Thakur Das ka Bhardwaji Gotra Sarsut Dat Brahmin basi Mattan pargana Srinagar des Kashmir … Chak Nanaki aaya."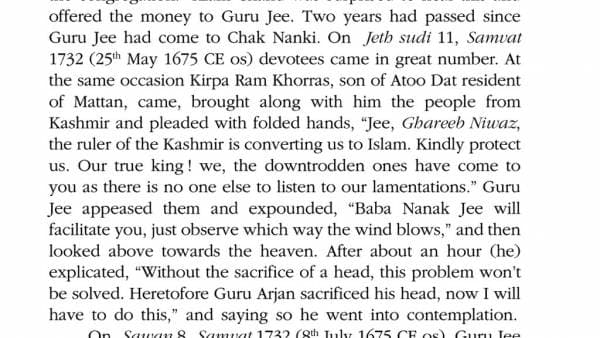 Gur Bilas (Pathshahi) Dasvin by Kuir Singh, is dated AD 1751 and in Chapter 4 has the heading 'Kashmiri Pandit', page 31 describes them crying in front of the Guru asking for help.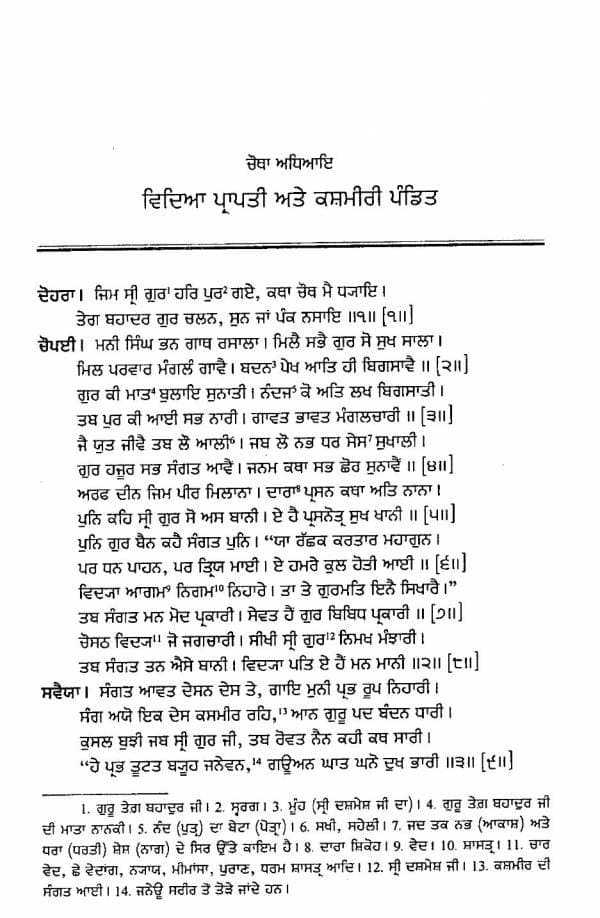 Gurbilas Patshahi 6 written in 1720 AD matches with Gurbilas Patshahi 10, written in 1751 AD. It speaks of how Aurangzeb was committing atrocities - ripping off sava mann [~5000kg] worth of Janeus from the populace of Kashmir, and how Guru Tegh Bahadur sacrificed his life to protect the people.
References: